Hello!
I have been playing around with rendering recently and got stuck. I am trying to merge two effects I like to create a unique look for my game.
My goal is to make it feel like you are playing Legend of Zelda, Link to the Past on a CRT television, something like this: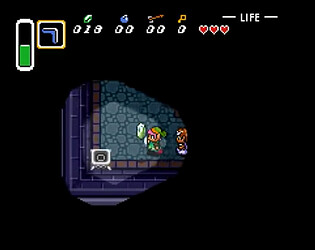 What I have been trying so far is rendering one material on top of another.
On the lower level I am trying to render lights as seen in this post/project:
Then, over that I am trying to render the CRT effect from the horror-lofi project as seen in this post/project:
I have made some progress, currently both techniques are in the game (hitting tab will swap the render type).
Currently the first effect (Horror-Lofi) only works 50% of the time. Literally restarting the game without changing any code will sometimes cause it to work / not work.
The second effect (lighting) works and I am happy with it.
The third effect (mix of the two) does not work at all. I've tried several things such as creating a unique material. Rendering one material over the other. I even tried to write my own render script without much success. As close as I've gotten is just one or the other showing up.
Here is my project:
post_processing_mixed.zip (531.0 KB)
Any help would be greatly appreciated!