The Defold roadmap is primarily influenced by four major stakeholders:
Platform providers - When Google, Apple and other platform providers require the use of new features we need to include these in our roadmap.
Corporate partners - As a part of our corporate partnerships we offer development services and the specific needs of our partners will influence the roadmap.
Defold team - Our own vision for Defold has a strong impact on the roadmap.
Developer community - Finally we also have the valuable input which we receive from you, our absolutely awesome community!
To help us plan for 2021 we'd like to invite you to share your opinions and thoughts on the open bugs and feature requests in our main issue list for Defold. Please head over to GitHub and have a look at the open issues.
We try to categorize all issues using different labels such as "physics", "gui", "editor" etc to help with searching. When you find an issue that you believe deserves to be fixed please add a thumbs up vote to it: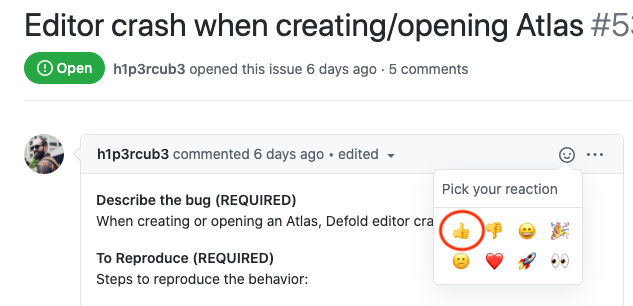 We will use your votes to help us prioritize which issues to focus on in 2021.
Disclaimer: There is no guarantee that we will decide to fix an issue just because it has received a lot of votes, but it will definitely be taken under consideration and it will be of great help to us.