I'm not sure if it's a good idea to have a topic dedicated to all sorts of question I might have while making my practice project, but I do not want to spam for every little question or fill the Dev diary topic either.
If it is in fact not a good idea, I'll close this topic the next time I have a new type of question
---
ERROR:GAMEOBJECT: Instance 'manager:controller#manager' could not be found when dispatching message 'load_level' sent from main:/main_gui#main_gui
and/or
ERROR:SCRIPT: /main/main_menu.gui_script:95: Could not send message 'load_level' from 'main:/main_gui#main_gui' to 'manager:controller#manager'.
stack traceback:
[C]:- 1: in function post
I have read THIS topic, which mentions these errors, and while I'm sure I could have missed something, I am also sure that the issues mentioned do not apply to my situation. The collections I want to communicate are both loaded and I used the separate_collection:path/game_object#component url in the msg.post(url,message_id,message) function
---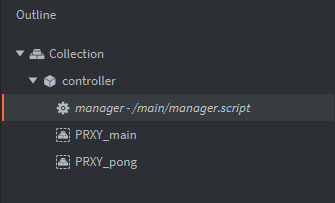 how the manager.collection looks like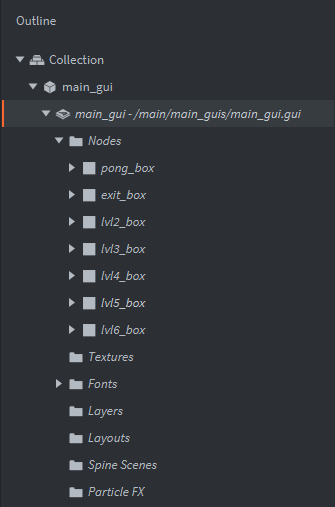 and how the main.collection looks like
I hope I explained it adequately, if not, feel free to ask.
Today's post has the entire progress documented, and the entire original topic has the project's progression logged, as well as an outdated project.zip
If anyone can help, I would greatly appreciate.
PS.: not that it probably matters, but I also tried writing the url as 'manager:/controller#manager' and 'manager/controller#manager'