Hi guys, I'm Tim (Lampogolovii)
We've just released our game "Zoom & Be" on html5.


And I'd like to thank Defold-team and community! You all are breathtaking! (c, Keanu Reeves)
You helped me a lot!!!
Here you can find my thoughts about the engine and our plans about the game.
Our story
Previously we made several flash/unity3d games on different platforms. And now we decided to try html5. So, I've been looking for the engine, which can build to web (unity3d webgl isn't allowed on portals nowadays). And, yeah – Defold has list with great html-5 games. So, we started to make a game with Defold.
The game
"Zoom & Be" is a puzzle platform game. You control two players at the same time. Play here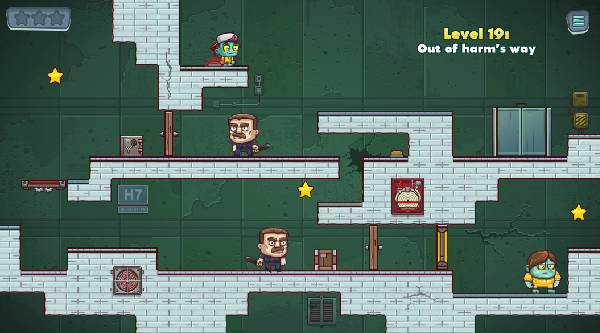 Yes, there are enemies/zombies on some levels:
Problems
Of course I had a lot of problems, while I was making the game.
Such as:
I can't set the linear velocity to a physic body? How to make a proper jump in this case?
What? I can't create physic shape on the fly? How to make solid tiled based level? (with no corners on each tile)
No RaycastAll methods, no runtime masks/groups changing e.t.c
So, there is no a lot of things, that I previously used to do…
And yes – most of these things can be done by different approaches and tricks. Yay! Most of the problems are solvable! Thank this forum and the community!
There was a situation, like
Me: is there any way to pause a sound and then continue from the paused position?
Chat: hm… we'll see… ok, done! Download the new Defold-engine – and now it is possible.
Me: whaa?! How does it work in your world? I shouldn't wait till next year, when updated engine comes out?!
The future
Now we are working on the mobile version of the game.
Fit to all screen sizes, ads integration, virtual buttons and all this stuff. I'd like to praise the speed of the game loading on mobile. I barely see the splash-screen on iOS-platform. True magic! I hope to release the game in a month.
We have big plans on game updates. New levels, new graphics, new skills are coming.


Nintendo Switch
Also, I'm wondering – is it possible to build the game to Nintendo Switch platform?
We already have Nintendo Switch Dev Kit, and developer's account.
So now what we need – possibility to make a build and polish the game in that way.
Is it in your roadmap or something?
A little bit more problems and my mistakes, that I experienced:
I made my own gui based on sprites – and run into limitation of 16 input listeners
You can't use proxy sync-loading. Because of music interruptions and glitches while loading.
Rendering only z: -1 to 1 values. Wow! That was a surprise!
Limit on max count of sprites. Strange thing, that disabled sprites count too…
Can't change position of physic body in one frame. I have to disable – change position – wait a frame – enable again.
Defold doesn't have hotkeys editor. Can't duplicate / delete lines, go to declaration and some other useful hotkeys.
Html5 build is still bigger, than I expected. Working on that.
After c# I used to type ; everywhere. I had a lot of problems with this in Defold/Lua.
go.prorerty("", "");
And local build works fine. But when I try to build to any target platform – and yes, build failed. From the error's text it can't be realized, that the problem is in ; at the end of the line.
Some of the Defold Great things:
Local build starts incredibly fast! Awesome work!
Mobile build is really small as possible! So now I have plenty of space to put extra resources to the game and I don't worry about the size.
Time-scaled update. I implemented "pause"-button to the game in 5 minutes! Just one line with changing scale of time.
Easy to start! Month or two – and I could make working code and build my own game.
I really like the modular approach in Defold. I can cut off some libraries, that I don't need. And I can add libraries, that I want (defos, analytics e.t.c)
…and a lot more!