Marginalia hero — it is an arcade game with RPG elements in medieval marginalia setting (strange and weird drawings from illuminated manuscripts). You are about to fight creatures and monsters, which were painted by real medieval artists about 5 centuries ago.
Marginalia
Here are some examples how does marginalia look like: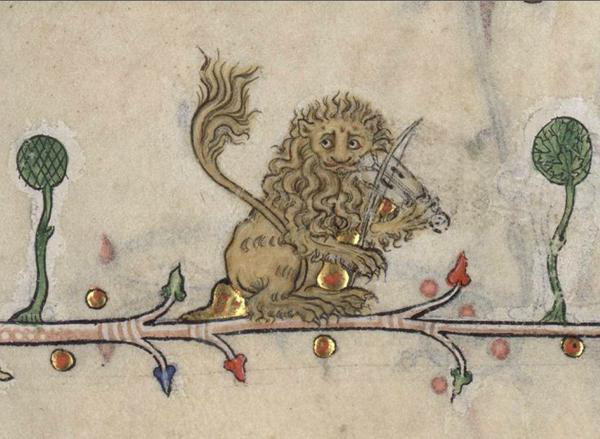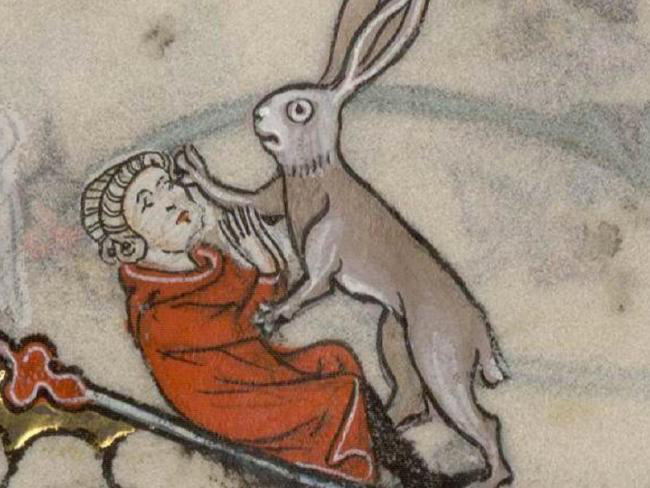 I am a big fan of marginalia because of the large spectrum of emotions depicted there: from comical-ridiculous surprise / fear / sadness to absolute calm / appeasement / humility or relaxation.
Just look at this!
uuuh, its pretty awesome!!!
Graphics
I didnt have money to pay for artist's work so i decided to try vector graphics and draw my game by myself. I think i spent much more time on drawing rather than on coding
. It becomes more funny when i say that im computer science student… hmmm… did i choose my future profession correctly?

Sooo i started to redraw charecters from illuminated manuscripts:

After a while, i got some drawing skills and became able to draw simple things by myself. So GUI elements, icons and equipment sprites were created without medieval artists' help.
And now im about to show you screenshots from my game:

Gameplay
Gameplay lies in the fact that a player needs to perform attacks exactly at the moment when the sword moving in a circle is above the target. Gradually new sword's and target's behaviors appear ( movement towards one another, transparency changing, acceleration and deceleration, rebound and swinging). When enemies are conquered, the main hero can upgrade his weapon and shield, buy pets and charms which give him not only visual customization but different bonuses for his abilities. Therefore it makes sense to collect different equipment sets for a certain enemy or level.
Key features

️ unique looking graphics style


️ addictive and challenging gameplay


️ 70+ items for customization and upgrading


️ 200 levels with strange and weird creatures and monsters


️ one finger/tap/click controls


️ atmospheric background music


️ heroic challenges and bossfight levels


️ 50 achievements for every taste


️ daily gifts and rewards
Links
Google play: http://bit.ly/MarginaliaHero
itch.io (web) : http://bit.ly/MarginaliaHeroWeb
P.S.
I really love Defold and its friendly community! You are awesome! Thanks!