I have three factories each spawning a different type of tree: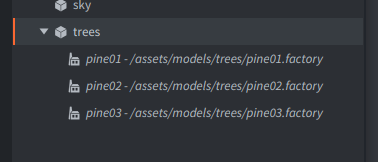 Each tree is a go with a mesh and nothing else.
The meshes are around 1K in polygons (tris).
When I use this method in my 'forest' builder using a simple perlin noise generator, I generate around 1600 trees. And this generates some possible performance issues.

The two items that concern me:
This appears to be getting set every frame? Even for static objects? Im going to have a look at the source for this, but it seems strange with a large pool of static meshes from factories.
The vertex count seems wildly out (by about 100x)? Unless it is because of the PBR shader which uses a number of texture inputs (this doesnt seem likely).
I havent really spent much time with this yet, so if Im doing something stupidly wrong please let me know - its very likely.
I also noticed, there doesnt seem to be any object clipping happening? Is that correct?
I kind of like that, because that allows me to implement a way to manage per channel vision objects.
Oh. I'll try to make a simple example to test. To ensure the other code I have isnt the cause.