I may be betting sentimental with age, but I smile widely each time I find a good game made by a small team from a town I am struggling to find on the map. I smile two times (and even wider) if the game is #madewithdefold =]
This was a community effort of a Defold-only game jam, an initiative I though might have been too restrictive. But the orgs made a poll with positive results, so the jam has been launched. This was an online game jam starting along the LD36 and finishing in a month, September 27. And while there's a full week till the jam ends, I'd love to take time to showcase some of the games being made.
##Why?
Because you don't speak Russian, I assume =] But give yourself a try. The green Играть button launches a game. All HTML5, as per jam rules.
##And the games are…
SMASH BASH: Date with the Desert
A nice team of 7 wanted to do a weekend project and ended up with a spin off from a bigger title being in production. We all have been there, right? This might be the flagship game of the jam.
---
Piper
You've seen this game on our forums, as @nicloay has been nice and active. But the game is from the jam and is very nice itself. So here it is. Beware, it is very addictive and sucks up all your time. Cannot stop playing it myself.
---
Guise of Sunrise
Now this thing is something of a kind. Devs advertise this game as a narrative based rhythm game. And it does look cool and so weird you just have to experience it. The game benchmarks in the number of WTFs per second.
---
Railmania
Nice puzzle with automagically generated levels. Permadeath and fun. Puzzle game in an endless runner mood, I'd say.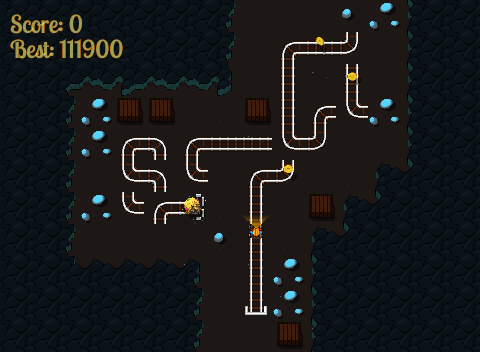 ---
Magic Kingdom
Did you have lunch? Fine. Put your headphones on and play this game. Till the end. It is 4-5 min.
---
Ancient Invaders
An artist and a programmer are making their way through Defold with a solid result given time and experience constraints. In fact, this is one of my favourite projects just because it shows what results can the ambitions driven development deliver =]
---
Diyu
Rogue-like pixel art Pac-Mac with a setting in of a Chinese hell. Beat this =] Made by team of two.
---
Glue Time
You might have seen this game on our forums. Cheers @baturinsky for taking the lead. Nice approach to arcanoid so far.
---
Thread
Simple yet surprisingly playable concept of a Chinese printing press game. Features nice art and a story! The team is from Moldova.
---
Game by Sublistris
Nice small and very punishing game. Reminds me of playing Mario on the hardcore. Did I tell it was very punishing?
---
To be continued…