ABOUT ME (MY OFFICIAL PRESENTATION):
Hi everyone, my name is Felipe Reis, I'm a novice Indie Game Developer, 3D Artist (I work and study Blender) and I'm a Graphic Designer in the region where I live in Rio de Janeiro (Brazil).
MY BRIEF HISTORY WITH GAMES:
I started in game development using Game Maker Studio 1 about 4 years ago, at that time I created my first two Android games: Invaders and Gravity. Challenging games to create for me as a beginner in this area. I make that I really enjoyed programming, developing each Sprite, the animations, sounds… (Nostage)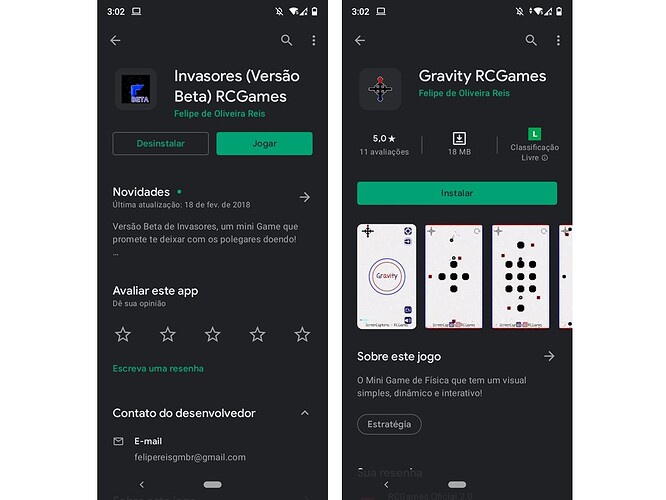 The GML language was the first game programming language I learned, before the languages ​​I knew very little about were just HTML and PHP. Learning GML helped me open the doors for me to start programming, developing my own scripts, understanding the logic of how a Game works and that was very useful when I started using it and then there is Unity and Unreal Engine for studies.
YES, I AM A 3D ARTIST!
My dream was always to be a Game Developer and my career started with 3D using Blender and then I bought a course in Blender for Architecture. From this course I started my journey and creating 3D models, I started working with architectural 3D rendering, creating "photorealistic" models, among many quotes, because I'm still at an intermediate level in this regard.
In this area of ​​3D I have many projects and goals, including TurboSquid, mainly the creation of 3D models for games, working with Unreal Engine is one of my biggest goals in 3D and I've already used Unreal for studies, I studied blueprints , on their own and then with the help of some basic courses on the subject. I'm a 3D lover, whoever wants to check it out, check out my Instagram and you'll see some of my creations. My best creations!
INVADERS (MY FIRST PLAY STORE GAME):
About Invaders RCGames this game was based on arcade games (Invaders), it was a very cool game to be made and I still want to redo it today with really interesting graphics and gameplay! I am very proud to have programmed it, as I was in very difficult conditions in my life at that time and with a very bad Positivo notebook with only 2GB of RAM. I really enjoyed having the first challenge to work with save and load the stages was a game that made me very happy to have developed it.
His positive points were all that all the knowledge about gml I learned in Game Maker I applied it within the Game Engine, the negative points mainly the design and optimization of the game, the game was very heavy. I used sprites the wrong way, huge image files, very large blocks of code with no need at all.
Until today there is only the Beta Version in the store.
Link: https://play.google.com/store/apps/details?id=com.RCGames.Invasores
Download it to help me! Because at the time I didn't invest in promoting this game, as it was a study project!
GRAVITY (MY SECOND GAME ON THE PLAY STORE):
About Gravity… It was amazing to create this game! I managed to optimize it very well, I created the game in two languages, the Sprites were much lighter, I managed to make a completely different mechanic than traditional games use and besides having it done completely in a short time, right after the experience with the Invaders! With many stages and a pretty cute design, it is still my big milestone, my second official game so far.
Link: https://play.google.com/store/apps/details?id=com.RCGames.Gravity
Download it to help me! Because at the time I didn't invest in promoting this game, as it was a study project!
DEFOLD AND ME
Now yes, at this point I'm going to talk about my experience with Defold… I know I have a long way to go yet, but I'm really enjoying programming in lua, I'm really enjoying Defold's workflow. Learning the Engine language was very simple for me, of course I'm still not very good with complex formulas, but my experience with GML and CSharp helped me to leverage on Defold. I'm already a designer, not only in the gaming area, but also in the church I'm a member of. I have a great facility to be able to make digital drawings and I also use a digitizer table, joining free editing programs like Krita, Gimp and Blender. Anyway, I've been working for about three months on a totally Indie project for Windows inside Engine, so I'll open a diary just about it here on the forum so you can follow the growth of this project. God willing I want to publish it on Steam as my first official Computer Game!
Thank you in advance for your patience in reading and getting here! Check out my Instagram!
https://www.instagram.com/felipereis_rcgames/