Well, i should state that it will be probably a biweekly devlog now) I have been very busy lately, so not so many time was left for blogging.
Map
Again! But this is one of the main screens, so. I can now show other map styles for the world map:
Summer edition of the map:
Autumn edition of the map:
And spring:
You can see that we added mountains to maps as well as some relief. To answer the main question about different climate zones in northern and southern hemispheres, i will say that this is still a game, so it may not be 100% accurate, but the main reason is that "real" mapping in the seasons is not so colorful and goodlooking. We tried to do it right way, but it looked boring, so we came up with this solution. And here is the gif with seasons changing: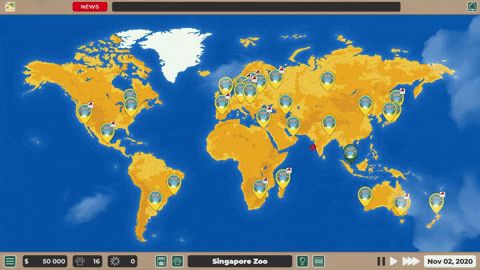 Animals
We hit 100 drawn animals and we will pause drawing for some time. Mainly because it's not clear right now if we need more animals. Behold: Tapanuli orangutan, Mariana fruit bat, Bali myna, Giant anteater and famous Fennec fox.
That's all. Stay safe, see you in a two weeks.